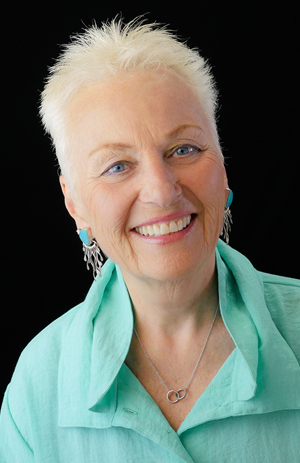 Barbara Borden, drummer, percussionist, composer and teacher, began drumming at age ten. From the beginning, she understood the transformative and enlivening nature that drumming and music provide.  Her musical expression is diverse: collaborator with musicians, healers and artists internationally; member of the all-women jazz quintet Alive!; co-founder –  Cloud 9 Music with Sheilah Glover, producing recordings – Beauty in the Beat, All Hearts Beating, Lady of the Serpent Skirt & Portraits of Passion; teacher – drum kit, West African djembe and ceremonial drums – private lessons and groups - classes, workshops, retreats, drum circles.  She Dares to Drum, Borden's solo, autobiographical "percussion play," told in words and music, drew critical acclaim. It was co-created and directed by Naomi Newman (co-founder of Traveling Jewish Theatre).   Borden is the subject of Emmy-award winning filmmaker David L. Brown's documentary,
KEEPER OF THE BEAT: A Woman's Journey Into the Heart of Drumming
, receiving the Runner Up Audience Award for the Best Documentary at its world premiere in the 2013 Mill Valley Film Festival.  With drumming and music as her ally, Borden continues to dedicate her life to keeping the beat of love, peace and joy alive!
kobmovie.com
"

Borden makes you feel that the world is her drum."
— SAN FRANCISCO EXAMINER
"

Borden draws you into a supple rhythmic intelligence and intuition."
— SAN FRANCISCO CHRONICLE