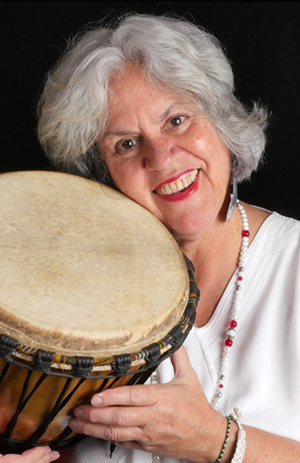 Carolyn Brandy is a percussionist, composer, performer, educator, cultural worker and mom.  She started playing the conga drums in 1968, and has been a pioneer in opening doors for women in the world of Afro-Cuban percussion.  She was the creator of Sistah Boom in the SF Bay Area and a founding member of the Jazz Quintet Alive! as well as collaborating with many Bay Area Artists. She is currently playing with vocal/percussion group: OJALÁ! who was selected to attend the Festival Del Caribe in Santiago de Cuba in 2014. Carolyn is the founder of the non-profit organization,
Women Drummers International
, and is the producer of the Born To Drum Camp for Women Drummers, which was created to inspire and empower women students, teachers and performers of hand percussion. The camps have been overwhelmingly successful, and have been produced from 2006-2015.
Carolyn has been a student of Cuban folkloric music for over 40 years. She has led six tours to the Island of Cuba to study folkloric music and dance with masters of Afro-Cuban folkloric music. Carolyn has a degree in music from Holy Names University in Oakland.
carolynbrandy.com
"

A surging power that is supported by a strong, tightly knit rhythm section - Carolyn Brandy playing congas, whistles, thumb piano and other colorful percussion instruments..."
— NEW YORK TIMES